Terms And Conditions
Introduction
Welcome to our terms and conditions of use. These terms and conditions apply to the use of this website and the purchase of our goods and services. By accessing this website and/or placing an order you agree to be bound by these terms and conditions. The customer is responsible for obtaining these terms and conditions for their reference. Project Timber Ltd Reserves the right to amend any part of our terms and conditions at any given time.
We sell Garden sheds, Summerhouses, Garden Workshops, Garden Offices and Potting Sheds both via Ecommerce and Telephone.
This website is operated by:
Project Timber Ltd Unit 1-3 Parry Business Park Grassthorpe Road Sutton-on-Trent Newark NG23 6QX United Kingdom 01777 802300
[email protected]
Company registered in England with Company No. 05126131 VAT No. 938453395
You will be able to access most areas of this website without registering your details with us. Certain areas are only open to you if you register. We may amend/update these terms and conditions at any given time by updating this posting. You should check this Website from time to time to review the terms and conditions to make sure you have the most recent version relevant to your contract. These terms and conditions are for Private Purchasers (consumers) only. For clarification a consumer is any person, firm or company who does not deal in the course of their business. If you are buying our goods to re-sell then you need to notify us in writing to open a re-seller account with us. Our contact details are above. If you have any questions about these terms and conditions and how they affect you please contact us via telephone on 01777 802300 or via email at
[email protected]
1.1 Placing an Order
You are deemed to have placed an order with us by ordering online via our online checkout process, or by placing an order over the telephone. As part of the checkout process you will be given the opportunity to check your order and correct any errors. An order is placed either by calling our sales team on 01777 802300 or alternatively you can place the order on our website. Simply select your required product, select the optional upgrade options, check the technical specifications for product sizes and materials and then proceed to the checkout by pressing "buy now". You will be prompted with a sidebar to check your options. Once happy proceed to the checkout.
1.2 Payment
All orders must be paid in full before despatch. Payment can be made by debit card, credit card, PayPal or Omni Finance. We accept the following debit cards: Visa Debit, Maestro, Visa Electron, Solo. We accept the following credit cards: Visa, Mastercard and American Express. When you make a payment by credit card, you are automatically covered by section 75 of the Consumer Credit Act 1974. Section 75 is a piece of legislation designed to remove the risk that you, as a consumer, will ever get into debt paying for goods or services that you didn't receive, were faulty or not as described. When you use your credit card to pay for goods or services between £100.00 and £30000.00, Section 75 holds your credit card provider 'jointly and severally' responsible for your purchase. This means that you have the right to claim a refund from your credit card provider if there is a problem with the goods or services you ordered. Please note that payments made by debit cards are not covered by Section 75 of the Consumer Credit Act 1974. Payment is taken when we receive your order. On-line and telephone order payments are processed via our SSL (Secure Socket Layer) secure payment system. Discounted quotations can be requested for bulk or multiple orders and by charities and community organisations.
1.3 Pricing
Prices listed are in GBP and are inclusive of delivery costs to selected UK postcodes and VAT, although additional charges may apply to deliveries in certain remote parts of the United Kingdom or overseas – see section 2 for details. Latest prices are listed against each specific product on the website. Please see section 2 for specific charges in special circumstances. Our prices are reviewed on a regular and frequent basis and any changes will be listed against each specific product on the site.
1.4 Vouchers and Discount
Vouchers can only be used at projecttimber.com subject to these terms and conditions, and any other specific conditions notified to you on the issue of a voucher. Your use of a voucher indicates your agreement to be bound by these Voucher Terms and Conditions. We reserve the right to withdraw, vary or cancel a voucher for any reason at any time. Vouchers may be limited to redemption in respect of certain products or services or certain products or services may be excluded from the ambit of use of the voucher, in which case notice will be given to you at the time of issue of the voucher. Vouchers are, and remain at all times, the property of Project Timber Ltd. The right to use a voucher is personal to the original recipient and may not be transferred. No voucher may be copied, reproduced, distributed, or published directly or indirectly in any form or by any means for use by an entity other than the original recipient, or stored in a data retrieval system, without the prior written permission of Project Timber Ltd. Vouchers distributed or circulated without the written approval of Project Timber Ltd, for example on an Internet message board or on a "bargains" website, are not valid for use and may be refused or cancelled. Unless expressly stated otherwise at the time of issue of the voucher, each issued voucher will be valid for use by a recipient only once. A voucher may not be used in conjunction with any other special offer or voucher. Vouchers cannot be used in conjunction with any finance offer. Vouchers cannot be exchanged for cash. Where an online offer states that a percentage discount will be given on a purchase, the cost of the qualifying purchases will be reduced by the stated discount percentage. Supplementary charges such as delivery charges shall not be discounted unless specifically stated in the offer description. When you use a voucher you warrant to Project Timber Ltd that you are the duly authorised recipient of the voucher and that you are using it in good faith. If you redeem, attempt to redeem or encourage the redemption of vouchers to obtain discounts to which you or a third party are not entitled you may be committing a civil or criminal offence. If we reasonably believe that any voucher is being used unlawfully or illegally we may reject or cancel that voucher and you agree that you will have no claim against us in respect of any rejection or cancellation. If we refuse a voucher submitted as part of an order, for any reason, we will inform you before the order is dispatched to advise of the correct cost of the order and give you the opportunity to cancel the order. The failure of Project Timber Ltd to take any action in respect of a breach of these terms and conditions shall not constitute a waiver of their enforceability. Project Timber Ltd reserves its rights in respect of these terms and conditions at all times. A voucher is redeemed by entering its code at the appropriate point in the online purchase process. Redemption may be subject to you providing proof of entitlement to use the voucher.
1.5 Order Acknowledgement
We will send you an order acknowledgement detailing the products you have ordered. This will be done by email. We will accept your order when we confirm the order by email, We will send written confirmation of order via Royal Mail if you so request. Once the order is accepted the contract is formed, however we may still refuse to accept your order after confirmation where: 1.Goods are not available, in which case we may provide a substitute of the same type and quality. You will be notified of this substitution by post or e-mail or telephone. You will have an opportunity to return the substitute goods if they are not acceptable. We will bear the cost of returning the substitute goods to our offices; 2.We cannot obtain authorisation for your payment; 3.There has been a product description error; or 4.It is logistically impossible for us to deliver the goods to that location; or 5.Delivery surcharges are applicable and have not been paid; or 6.Through error, we have under priced an item; we will not be liable to supply that item to you at the stated price. We will notify you of this before dispatching the item to you. In those circumstances, we will also notify you of the correct price, so that you may decide whether or not you wish to continue with the purchase. If you decide not to order the goods, we will give you a full refund on any amount paid in accordance with our Cancellations and Returns Policy set out in Section 4 below. Delivery will take place within 30 days of the order being confirmed unless otherwise agreed with you. For offshore or remote mainland deliveries please contact 01777 802300 for specialist advice. Once your order is placed we endeavour to send out an acknowledgement email, providing you with the applicable contact details as provided to us and your order reference number. You will be contacted once the order has been accepted and received by our dispatch team to notify you the day in which your delivery will be made. You may track your order at any time by contacting 01777 802300 or via email at
[email protected]
2. Delivery
2.1 Standard Delivery
Orders received on Saturdays, Sundays or public holidays and orders received after 1pm on weekdays, will be processed the next working day. We do not normally deliver on Saturdays, but where we can and we agree to an additional charge will be levied. We do not deliver at all on Sundays or public holidays. Whilst we agree to use all reasonable endeavours to ensure that delivery is made around the delivery lead time advertised, you acknowledge that actual delivery is often via third party suppliers and carriers and can therefore be beyond our reasonable control. Incorrect personal details may also lead to problems or delays in delivery, so before placing your order, please ensure that you have included the full delivery address details, including an accurate postcode of the delivery address and your daytime contact telephone number(s) and an up to date e-mail address so that we can notify you in the event of a delivery problem. If you are not going to be in to accept delivery and you wish the goods to be left please notify us before delivery in writing ( post, email or fax ) or leave a signed note on your door to this effect. In all cases our delivery service is a one man delivery with a kerbside delivery only. If you have any special requirements or believe access to your address may be difficult for our delivery driver then please contact us on 01777 802300 or at
[email protected]
Delivery times are between 6am and 7pm, we are unable to specify a time for delivery. During adverse weather conditions our delivery service may be affected in some areas, resulting in lead times being slightly longer than advertised. Every effort will be made to maintain service levels on behalf of our customers and where safe to do so, and depending on the local prevailing conditions, collections and deliveries will be attempted.Our delivery service is kerb side only. If you have any special requirements or if access is difficult, please contact 01777 802300. If access for delivery is restricted please ensure that you inform us when placing your order or in all circumstances prior to despatch of the goods. Failure to do so will result in the delivery being treated as a failed delivery if access is unavailable and may result in a re-delivery charge being applied. If a delivery is refused at the delivery address, and re-requested for another date, we may charge for the second delivery. If you refuse to accept an item that is being delivered for any reason you must notify us immediately with the reason for
[email protected]
Project Timber will not be held responsible for loss of earnings due to failed or delayed delivery. We recommend that you do not arrange any third party ancillary services (e.g. installation) until goods are delivered and checked. We cannot be held responsible for unnecessary expense incurred in this regard where the delivery estimate has been relied upon but not met.If you miss the delivery of your order, you may incur a re-delivery charge as we have met our original delivery obligation with our first attempted delivery. If this is the case we will of course notify you, prior to the re-delivery, of any charges that may apply. For further information and clarification regarding deliveries, please contact our sales team prior to placing your order on 01777 802300 or
[email protected]
Please note: Delivery charge varies according to postcodes, products and/or mode of delivery. Other locations may still be subject to a separate delivery surcharge even for items delivered on a free delivery date. Note also that delivery mode is not optional, but is fixed according to product type and weight and height limits
2.2 Next working Day Deliveries
Where any next working day delivery is offered in the product pages, orders must be placed by 12 noon to be processed in time for a next day delivery. (Orders placed on Saturdays, Sundays, Bank Holidays and after 12 noon will be processed on the next working day). Next day deliveries cannot be guaranteed. Where we fail to meet our next day delivery obligation and the goods are subsequently delivered on another day we will refund the next day delivery charge to you so long as the error was on our part or that of our nominated carriers. We cannot refund the fee if the error was due to incorrect information being supplied at the time of order for this service which subsequently causes failure of the next day delivery.
2.3 Designated Day Deliveries
We may be able to arrange delivery on a specific date of your choice, in which case an additional charge will apply. Please contact 01777 802300 for specialist advice. If a designated day delivery is not met we will refund the charge, however we will not be held liable for compensation where a date cannot be met.
2.4 Saturday Deliveries
We may be able to arrange delivery on a Saturday of your choice, in which case an additional charge will apply. Please contact 01777 802300 for specialist advice. If a Saturday delivery is not met we will refund the charge, however we will not be held liable for compensation if the delivery is not met.
2.5 Delivery Estimates
Any times or dates stated on our website or emails regarding delivery are estimates only and may be increased to some postcodes. We endeavour to deliver all goods within 30 days, but we do not accept liability whatsoever for any failure to deliver within that time and offer no compensation for failure to deliver within any given time scale. If we are unable to deliver within this time scale then we will only proceed with your order if you agree to the longer delivery period following our contact with you or you do not contact us to confirm otherwise. We are unable to notify you of specific delivery time slots. Those located in offshore or remote mainland areas are those most likely to require a delivery date extension and/or extra charges, if you feel you may be located in such an area, please contact our dedicated sales team first for specialised advice prior to placing your order, they can be contacted on 01777 802300 or at
[email protected]
Delivery may be extended by a further 5 – 10 working days if the installation service is chosen and installations are carried out on weekdays only, typically between the hours of 7am and 7pm.
2.6 Delivery Surcharge Fees
The prices stated on this website include the cost of carriage to most UK postcode districts. However, we incur additional costs for delivery of certain products to some postcodes, these being remote areas. If we do incur additional costs we reserve the right to levy the additional charge and increase our lead times, which would also be necessary as specialist hauliers may need to be engaged. By agreeing to the terms and conditions you are also agreeing to accept additional delivery charges should your postcode or area necessitate these as detailed or by notification to you. If you have placed your order on line and an additional delivery surcharge is required, your order will be placed on hold and we will contact you to notify you of the additional charge. You can then choose to continue with your order by paying the additional delivery charge or you may cancel your order at that point. We are unable to deliver some of our products to certain postcodes.
2.7 Missed Deliveries
If you miss the delivery of your order, you may incur a re-delivery charge as we have met our original delivery obligation with our first attempted delivery. All delivery times quoted on the product pages and on our web site are estimated delivery times only and cannot be guaranteed. Re delivery charges are variable and will be calculated taking into account geographical location and product/service ordered. You will be contacted by our Care team to inform you should any re-delivery charges be incurred. If You are unable to accept the delivery date given please contact the logistics team on 01777 802300 or
[email protected]
Please note we require a minimum of 7 working days to reschedule your delivery otherwise delivery charges may be incurred.
2.8 Order tracking
You can track your order at any time during the order process. To track your order contact our logistics team by emailing us at
[email protected]
or telephoning us on 01777 802300 quoting your order reference number.
2.9 Receiving Your Delivery
Please note that we operate a policy of kerbside delivery only. If you have any special requirements or believe access to your address may be difficult for our delivery driver then please contact us on 01777 802300 or email us at
[email protected]
quoting your reference number. Delivery will be deemed as successfully made once the product has arrived at the address specified so long as the product has been signed for or a signed note by the buyer has been left to say that the goods can be left unsigned for. Where goods are required to be signed for, these must be signed for by an adult aged 18 years or more. A kerb-side delivery will take place. Whilst we make every effort to handle the buildings ourselves, we may on occasion need to ask for assistance. If this will be required you, will be notified before delivery. Products are your responsibility once they have been received by you, your agent or the intended recipient or a signed note has been left indicating that delivery can be left unattended. Any loss or damage to the products will be at your own risk. We advise that you do not arrange any third party ancillary services (e.g. installation) until all goods are delivered and checked. We will not be held responsible for unnecessary expense incurred in this regard where the delivery estimate has been relied upon but not met. Compensation will not be issued under such circumstances. In case of delivery to certain locations such as hospitals, airports, hotels, ships and other business premises, the signature of any person authorised to accept delivery on behalf of that organisation shall be accepted as proof of delivery of the goods to yourself. Shortages should be noted on the consignment note and notified to us within 7 days of delivery by calling us on 01777 802300. We may not accept claims for damaged goods if the courier has obtained a clean signature for delivery. Photographic images are taken when loading the vehicle and again when delivering to your address. Placing an order means acceptance of these terms and conditions and authorisation for our delivery teams to take photographic evidence of delivery. These images are used for internal use only unless specified in which case we will contact you for approval. If more than 48 hours after delivery have passed please telephone us on 01777 802300 or email
[email protected]
. If there is cause for concern or any other problems identified, such as damaged parts, on or after delivery, do not attempt assembly. Please telephone our care team on 01777 802300 and ask for further advice.
3. Assembly Service
Project Timber is now offering an installation service on selected products which includes our knowledgeable installation team delivering, unpacking and assembling the product ensuring that it is fitted correctly and safely. The team will also remove any packaging from your garden after assembly so you can sit back and let us do the hard work! We are currently only able to offer the service to limited postcodes – The postcodes for Assembly are: AL, B, BB, BD, BL, BR, CB, CH, CM, CO, CR, CV, CW, DA, DE, DH, DL, DN, DY, E, EN, GU, HA, HD, HG, HR, HP, HU, HX, IG, IP, KT, L, LE, LN, LU, M, ME, MK, N, NE, NG, NN, NR, NW, OL, OX, PE, PR, RG, RH, RM, S, SG, SK, SL, SM, SN, SR, SS, ST, SW, TF, TS, TW, UB, W, WA, WD, WF, WN, WR, WS and YO. If you are outside the above postcodes we may be able to assemble at an extra charge. A level concrete or paved base suitable for the size of the building must be laid ready prior to assembly. (Photographs may be required of the base and a basic diagram of the garden). If on arrival the base is not suitable and the installation is failed, the customer will become liable for the installation service fee which will be 50% of your installation value. The product can be left on site and the customer will be given the option of either assembling the building themselves or a return visit can be arranged subject to payment of an additional installation service however in this instance only 50% of the installation value will be refunded. It is the responsibility of the customer to provide free and unobstructed access for product delivery and entry to the fitting site. We recommend that panel sizes are checked to allow access through archways and doors. There may be an additional charge if the building is to be assembled a large distance from where it has been delivered. The installation service does not include the fitting of any optional extras or other products bought at the time or after the order. It is advised that the customer is present at the time of fitting but not essential, however we would require written permission to deliver and install in the customer's absence along with detailed instructions of fitting requirements. Please be aware that the customer will be responsible for disposing of any leftover felt, off cuts off wood etc. Please note, our drivers are not insured to enter properties and therefore will not carry any goods through a customers' house, even at their request. If you have any special instructions or have any enquiries, please contact
[email protected]
Upon delivery Or completed installation, our team are instructed to take photos as proof of delivery/ Installation. These images are used for our reference and form part of the delivery/installation process. Our team will be required to use personal camera equipment to take these images. Any taken images will be kept for project timber use and on occasion we may request use of your images as promotional material for our website. No personal details will be used in this instance.
If you need to reschedule your assembly date, please let us know at your earliest convenience by contacting the logistics team on 01777 802300 or
[email protected]
Please note we require a minimum of 14 days notice to reschedule otherwise you may be charged 50% of the installation fee.
4. Cancellations And Return
4.1 How to cancel an order before dispatch.
If you wish to cancel your order before the goods have been despatched you can e-mail
[email protected]
. Or contact us on 01777 802300
4.2 No fuss 14 day returns / money back guarantee.
If you're not 100% happy with your new purchase, you can return it within 14 days of delivery. We're confident you'll have a happy experience when you buy from us—we know your needs by heart and all we want to nurture is a community of happy and satisfied customers. If you do have a problem though, you can return your product to us within 14 days of delivery, without any fuss – as long as you haven't used it already. Throughout most of the UK, our products are delivered and collected on our own vans. In the unfortunate situation that you do want to return your purchase, please be advised that there is a variable charge to cover the cost of the collection as follows: A charge of £0.30 per kg for the weight of your order. For all orders where a surcharge has been paid, there is an additional charge, equivalent to the original surcharge paid. For the avoidance of doubt, if the original surcharge was £50, the collection cost for an order under £200 would be the £50 surcharge plus £20, a total of £70. We are able to collect any order delivered by our own delivery courier – Project Timber Deliveries. This includes most items that we sell. If your order was delivered by one of our couriers, including Hermes, Yodel, or Whistl, we ask you to arrange your own return using their Collection services, all of which are available online for a reasonable cost, or you can use any other courier. Please be advised that we can not accept any responsibility for damage to the goods before they arrive. Upon arrival we will photograph the return to ensure that any damage has not occurred since it was received by us. When using a Courier to return your order, we strongly advise you to take adequate insurance as we can not accept any responsibility for items lost or damaged in transit. Refunds will then be processed once the building has been received and checked by the management team. Refunds will be returned via the same method used to purchase the product.
5. Product Information
5.1 Project Timber Ltd Anti Rot guarantee
Any product covered with the Anti-Rot Guarantee will display one of the following logos displaying the length of guarantee that applies.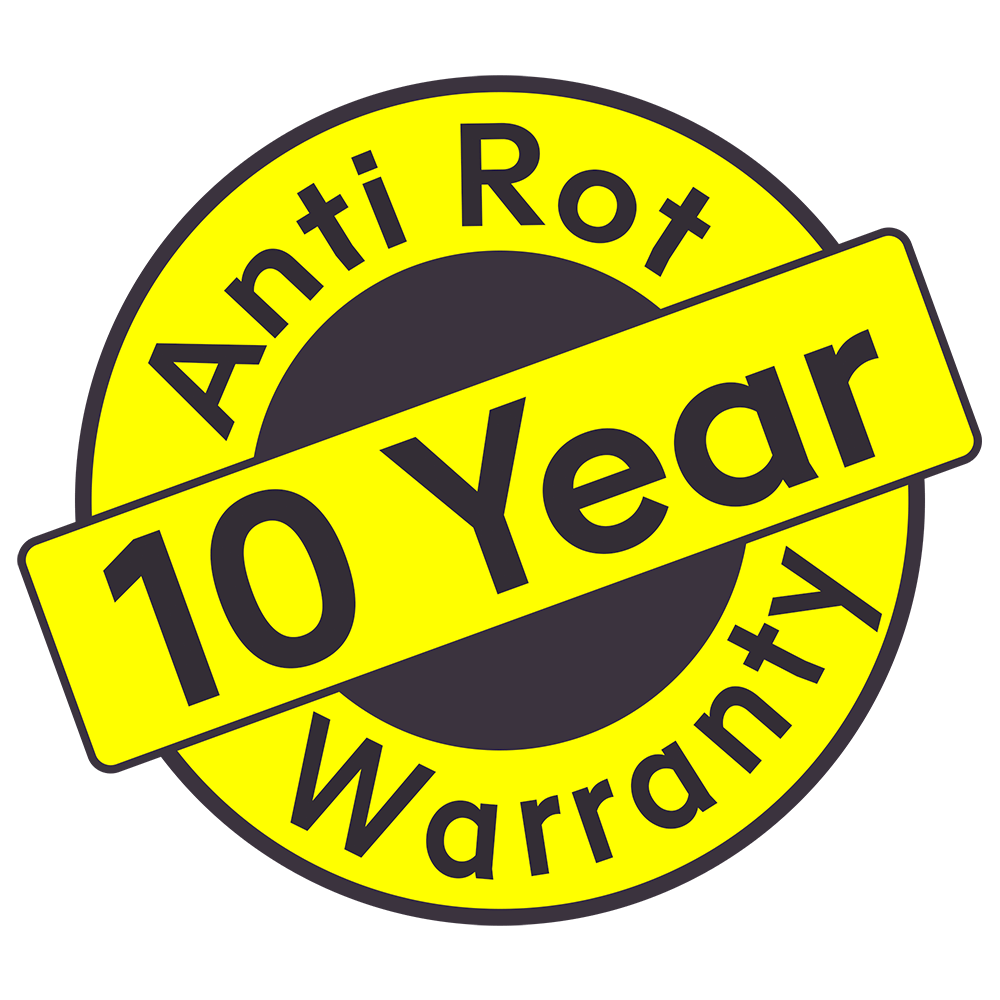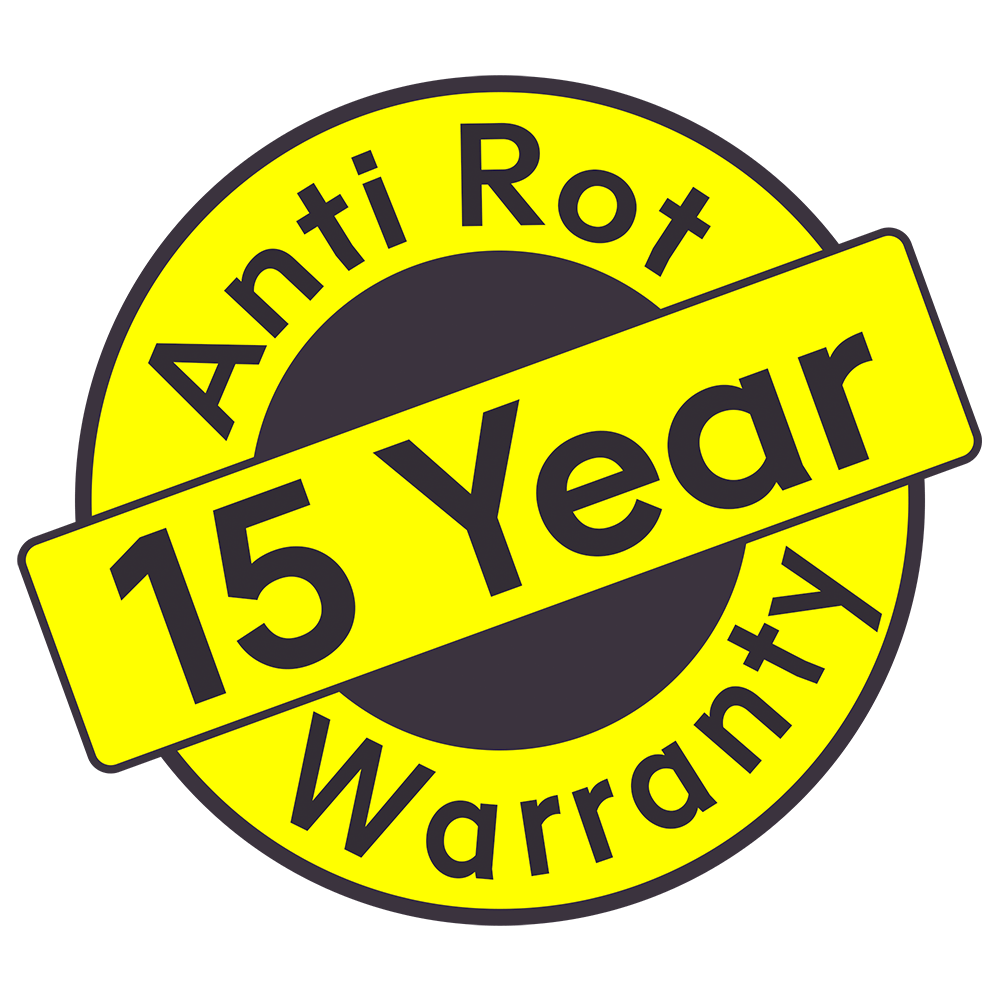 10 Year warranty applies to Standard "dip" treated products
15 Year Warranty applies to Pressure Treated Products
Standard or dip-treated products carry a guarantee against rot. Anti-rot protection guards against fungal decay and insect attack. The guarantee does not cover movement, warping or splitting of timber products over time. Any warranty offered is only valid for goods within the United Kingdom. All products sold are for domestic use only unless otherwise stated in the description and/or product pages. This warranty applies to products purchased after September 2016.
5.2 Validity of guarantee
The product build instructions which are supplied with each building should be adhered to comply with the conditions of the guarantee. If any part of pre-treated timber is cut, notched or drilled then an approved cut-end treatment should be applied to comply with the conditions of the guarantee. A suitable timber treatment should be applied at the time of first build and then applied every 12 months to maintain the appearance of the timber and to comply with the conditions of the guarantee. The application and/or mixing guidelines provided by the manufacturer of the timber treatment should be followed. The guarantee is invalid if:
If the building has been customised or modified in any way. The person claiming is not the original purchaser of the building. The building has not been treated annually or as per the treatment manufacturers. The building has not been erected on a suitable sized flat, solid level concrete / slab base or placed on pressure treated bearers and it is found to be water/moisture is rising from the base. The building has not been erected, fitted or installed correctly. In cases of general wear and tear, misuse or by third party damage. The building is or has been placed within 2 feet (60cm) of any obstruction (walls, tress, fences etc) which can allow moisture to penetrate the timber.
This warranty does not cover any modifications to any building, damage to these adjustments will not be covered by Project Timber. This includes but is not limited to electrical adaptations, use of furniture/personal items inside the building or any exterior adaptations. The consumer will be liable for any removal and replacement of adaptations in any warranty claim.
5.3 Product Maintenance
Wood is a natural material and carries unique characteristics. This results in no two pieces being the same in appearance.
Whilst we endeavour to make sure all sections are as equal to one another as possible, it's inevitable there may be misalignment from time to time. This is normally caused by thermal expansion/contraction and with the panels made in different batches, this cannot be remedied. In action to this, we supply cover strips which take the eye away from cladding that doesn't match perfectly.
We use shiplap design to deter water away from the building and allow for the expansion and contraction of wood. This also helps prevent wooden panels from warping, bowing and splitting. Whilst water should not enter the building we cannot 100% guarantee this within the movement of the material. Therefore it is recommended that guttering is fitted at the stage of assembly to further reduce this.
Wood may contain knots and other small details in which are formed throughout the life of the product. These are simply aesthetic and will not affect the structure of the building in any way. These can simply be filled with an expandable filler purchased from a DIY store. You will find that this settles after the first few years as the movement of the material will become less frequent as it adapts to the elements.
Wood being a natural material is subject to thermal movement. Whilst we endeavour to make sure all this happens as little as possible, we ensure that there is always enough movement to allow for thermal expansion around the panels, this stops panels expanding and splitting or bowing. We do not advertise the building as water tight but if this is required, you would need to use an expandable wood filler, this will still allow the expansion whilst keeping the water out. These products can be sourced from any local DIY store.
Door adjustments are not covered under Project Timber Ltd guarantee and may be required during time to time. This is simply due to the expansion and contraction of the material during seasons however over time this will settle.
Colour tones can vary across panels. These are batch produced and sometimes different batches will be used in orders. Colour will not affect the construction of the building and over time panels will all fade to the same colour during various weather conditions. Standard treated buildings require painting once received in line with our Anti Rot Guarantee in section 5.2 however with pressure treated buildings it is advised to use a wood cleaning product available from various DIY stores to refresh the colour of the building.
Warping cracking or splitting is not covered by any Project Timber Ltd guarantee. Warping/ cracking or splitting of timber can occur with the product being a natural material. Various remedies are available in DIY stores to prevent/ Rectify these qualities.
Mineral Felt roofing is the standard option we provide on all of our buildings. In time the felt will deteriorate and need replacing. This can be caused by but is not limited to, weather conditions, movement in the building and animal damage. This is not covered by the guarantee. We recommend our Rubber Roof product for a lifelong roof cover protection.
Felt tiles are a great addition to your building. They increase the aesthetic look of the building. However adverse weather conditions can cause the tiles too loosen / come out of place. In this instance this is not covered by any installation or product guarantee offered by Project Timber Ltd if weather is deemed to be the cause.
The pressure treatment process offered by Project Timber is a long life protection against rot and decay and is not a weatherproof system. Your garden building will require protection from UV light and water penetration, therefore no further preservative treatment is required. We do recommend that a weatherproof coating is applied as soon as possible but no later than 12 weeks after installation and then at regular intervals to increase the life of the building. Please follow the manufacturer's recommendations as to when to apply the product.
5.4 Force Majeure
Force majeure is defined as any cause to our buildings deemed beyond our control. This is includes but is not limited to act of God, War, Terrorism, Flood, Weather, Explosion, Natural catastrophes, Civil/military disturbances, Strikes and theft. We will not be held liable or responsible for any failure or delay in our terms and conditions if said cause is due to Force Majeure.
5.6 Planning Permission & Building Regulations
Most of our buildings are designed so that plannings permission is not required. Permission is responsibility of the consumer and no liability to failed permission will be accepted by Project Timber Ltd. We advise you seek permission for you building before order as you may be liable for return fees as set out in section 4.
To support this we would like to make it clear that our buildings are sold as garden buildings where permissions/regulations are not required. However you may wish to use your building for different circumstances. We advise that should you choose to use your garden building for specialist needs that you contact your local council / authority and discuss this with them as counties have different regulations.
5.5 General Information
Wood is a natural product and susceptible to changes in the external environment. Extremes of temperature or weather conditions will cause a reaction in the timber. Sawn timber and machine-rounded items in particular, may split. This will not affect the structural strength of the wood or the product guarantee.
5.6 Customer Media
Photographs and images on the website may have been supplied to us by the manufacturers, or with regard to our own products they will have been supplied by us but in any event they are used to represent the style of the product and are for illustration purpose only. Timber products in particular are natural products and as such are liable to colour variations.
6. Liability
These terms and conditions shall be governed by and construed in accordance with English law. Disputes arising in connection with these terms and conditions shall be subject to the exclusive jurisdiction of the English Courts. These terms and conditions together with the privacy policy, security policy, any order, order acknowledgement, communications and payment method instructions, if any, are the whole agreement between you and us. If any provision or terms of these terms and conditions is found by any competent jurisdiction to be invalid the invalidity of that provision will not affect the validity of the remaining provisions which shall continue to have full force and effect. Only the parties to these terms and conditions may seek to enforce them under the Contracts (Rights of Third Parties) Act 1999. You must be over 18 years to purchase the Products and register with this website. Project Timber Ltd shall not be liable for any delay or failure to deliver products or otherwise perform any obligation as specified in these terms and conditions if the reason for that failure is caused by circumstances beyond its reasonable control. Nothing in these terms and conditions shall exclude or limit our liability for (i) death or personal injury caused by negligence (as such terms is defined by the Unfair Contract Terms Act 1977); (ii) fraud; (iii) misrepresentation as to a fundamental matter; or (iv) any liability which cannot be excluded or limited under applicable law. We have used our best endeavours to ensure that our website complies with UK laws. However, we make no representations that the materials on our website are appropriate or available for use in locations outside the UK. Those who visit our website from other locations do so on their own initiative and are responsible for compliance with all applicable laws. You agree to indemnify us fully, defend and hold us, and our officers, directors, employees and agents, harmless from and against all claims, liability, damages, losses, costs (including reasonable legal fees) arising out of any breach of the terms and conditions by you, or your use of this Website, or the use by any other person using your registration details. These terms and conditions do not affect your statutory rights.
7. Modifications To The Website
While we endeavour to ensure that the information on this website is correct we do not warrant the accuracy and completeness of the material on this website. We may make changes to the material on this website or to the products and prices described in it. There will be a notice on the site advising you of this. If you are relying wholly on any content to make your purchase decision please feel free to contact us on 01777 802300 to clarify and confirm any detail prior to placing your order with us. This does not affect your statutory rights.
8.Visitor Material and Conduct
Other than personally identifiable information, which is covered under the privacy policy, any material you transmit or post to this Website will be considered non-confidential and non-proprietary. You are prohibited from posting or transmitting to or from this Website any material:
That is threatening, defamatory, obscene, indecent, seditious, offensive, pornographic, abusive, liable to incite racial hatred, discriminatory, menacing, scandalous, inflammatory, blasphemous, in breach of confidence, in breach of privacy or which may cause annoyance or inconvenience; For which you have not obtained all necessary licences and/or approvals; Which constitutes or encourages conduct that would be considered a criminal offence, give rise to civil liability, or otherwise be contrary to the law of or infringe the rights of any third party, in the UK or any other country in the world; or Which is technically harmful (including, without limitation, computer viruses, logic bombs, Trojan horses, worms, harmful components, corrupted data or other malicious software or harmful data). You may not misuse the Website (including, without limitation, by hacking). We will fully cooperate with any law enforcement authorities or court order requesting or directing us to disclose the identity or locate anyone posting any material in breach of clauses of the Licence Section. If you place an order with us, occasionally we may use your name, product purchased and location for marketing messages displayed on our website. We care about your privacy so these messages will be depersonalised by using your name and county only.
9. License
You are permitted to print and download extracts from this Website for your own use on the following basis:
No documents or related graphics on this Website are modified in any way; No graphics on this Website are used separately from accompanying text; and Any of our copyright and trademark notices and this permission notice appear in all copies. Unless otherwise stated, the copyright and other intellectual property rights in all material on this Website (including without limitation photographs and graphical images) are owned by us or our licensors. For the purposes of these terms and conditions, any use of extracts from this Website unless subject to clause 12.i, for any purpose is prohibited. If you breach any of the terms in these terms and conditions, your permission to use this Website automatically terminates and you must immediately destroy any downloaded or printed extracts from this Website. Subject to clause 11.i, no part of this Website may be reproduced or stored in any other website or included in any public or private electronic retrieval system or service without our prior written permission. Any rights not expressly granted in these terms are reserved.
10. Service access
While we endeavour to ensure that this Website is normally available 24 hours a day, we will not be liable if for any reason this Website is unavailable at any time or for any period. Access to this Website may be suspended temporarily and without notice in the case of system failure, maintenance or repair or for reasons beyond our control.
11.Linked Websites
Links to third party websites on this Website are provided solely for your convenience. If you use these links, you leave this Website. We have not reviewed all of these third party websites and do not control and are not responsible for these websites or their content or availability. We therefore do not endorse or make any representations about them, or any material found there, or any results that may be obtained from using them. If you would like to link to this Website, you may only do so on the basis that you link to, but do not replicate, the home page of this Website, and subject to the following conditions:
You do not remove, distort or otherwise alter the size or appearance of the logo; You do not create a frame or any other browser or border environment around this Website; You do not in any way imply that we are endorsing any products or services other than our own; You do not misrepresent your relationship with us nor present any other false information about us; You do not otherwise use any trademarks displayed on this Website without our express written permission; You do not link from a website that is not owned by you; and Your website does not contain content that is distasteful, offensive or controversial, infringes any intellectual property rights or other rights of any other person or otherwise does not comply with all applicable laws and regulations. We expressly reserve the right to revoke the right granted in clause 12.i for breach of these terms and to take any action we deem appropriate. You shall fully indemnify us for any loss or damage we or any of our group companies may suffer or incur as a result of your breach of clause 12.1.
12. Registration
Each registration is for a single user only. We do not advise you to share your user name and password with any person nor with multiple users on a network. Responsibility for the security of any passwords issued rests with you and if you know or suspect that someone else knows your password you should contact us immediately. We may suspend or cancel your registration immediately at our reasonable discretion or if you breach any of your obligations under these terms and conditions.
13. Miscellaneous
Items bought by companies or individuals for trade or resale purposes will not have any warranty other than that provided by the original manufacturer. All products are sold for domestic use only. Any warranty offered or implied is valid for goods within the United Kingdom. You may not assign, sub-licence or otherwise transfer any of your rights under these terms and conditions. Project Timber try to ensure that all information on this website is accurate. However, if an error does occur we will contact you as soon as we become aware of the error, to discuss whether you wish to continue with your order or not. If you cancel your order you will receive a full refund of any charges paid in advance. Project Timber do not provide planning advice, if you are in any doubt please check whether planning permission or building regulations are required before purchase.
14.Communication
To ensure you are kept fully informed, Project Timber Ltd and their ecommerce websites may contact you by email and other means of communication to provide you with information on our products, services, research and special offers. If you don't want to receive this type of communication from us you can write us to let us know at the following address: Project Timber Ltd Unit 1-3 Parry Business Park Grassthorpe Road Sutton-on-Trent Newark Alternatively, email us at
[email protected]
.